Principal
Insight into Artsightful
Welcome! Artsightful is founded on my belief that the creative process of art-making is the creation of sense-making. Through art we explore, discover and question the world around us and within us – essential in our individual and communal evolution. Therefore, the creation and presentation of art is a collaborative process bringing together artists, arts managers, advisors, governors, investors, and audiences.
The process of creating shared understanding through collaboration is my specialization. I simplify complex concepts by sharing methodologies, facilitating interactive exploration and creating tools that empower solutions. As an instructor, coach and consultant I gather and document key intentions, challenge assumptions, facilitate the exploration of options, and test solutions. The result is an inspirational and accomplishable plan for that fosters collaboration.
Having earned a Master's in Arts Administration from Golden Gate University I believe in sharing knowledge to evolve the business of art. To this end, I have also earned a Doctor of Business Administration (DBA) from Golden Gate University.
Mindfulness is the foundation of my professional practice. Having earned a diploma in Neuro Linguistic Programming (NLP) and certification in yoga, I incorporate body-breath-mind awareness into all my work so that clients can reach their fullest potential. Learn more about me at www.amykweskin.com.
You can explore my Strategic Planning methodology in the Center for Cultural Innovation publication Business of Art: An Artist's Guide to Profitable Self-Employment.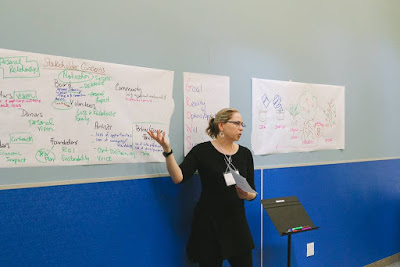 I look forward to the opportunity for us to share insights with each other!
Amy Kweskin
Doctor of Business Administration
Consultant, Trainer & Coach
[email protected] or 415 . 350 . 6479